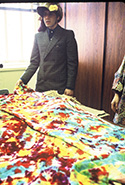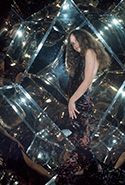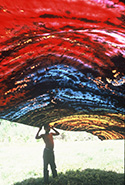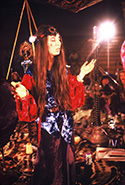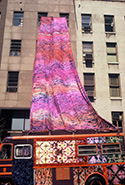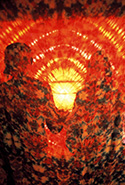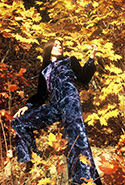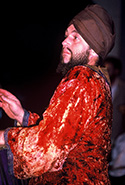 | Zubin, A Living Legend|
The Story Behind the Tie-Dye Trend
(Excerpt)
The 60's was a time when young people opened their minds and hearts to express their creativepotential, inspiring a cultural revolution combining music, art, politics and fashion.
In New York City, a flamboyant friend and I created several interactive imaginative events in our Greenwich Village loft. It was during our "Tie-Dye Plunge" - where guests were shown how to tie and dye an array of exotic fabrics — that our experiments dazzled us enough to pursue the craft.
We built two pushcarts displaying our colorful creations - including a wild invention called Fur Balloons — which sold so successfully with our tie-dye accessories that we initially opened a night-time boutique (10p.m. to 6 a.m.!) in the West Village.
The store's interior was completely lined in tie-dyed fabrics with chiffon-draped ceilings, and featured a 12 sided mirrored dressing room. Rock stars — including Janis Joplin and Jimi Hendrix — visited our store, costuming themselves in our luxurious, dyed silks, satins and velvets.
In 1969, we tie-dyed and sold (and gave away!) 5,000 T-shirts at the Wood-stock Festival, therefore launching the whole colorful craze. We next approached Rit Dye company with our ideas to expand their sales, presenting them with a huge box of tie-dye scarves and clothes that were hanging from our (synthetic) Fur Balloons! They loved it and immediately launched a huge public relations/advertising campaign that featured our creations.
My friend and I parted ways when I received a large clothing contract and opened a dyeing workshop near Woodstock, New York.
I gave jobs to many unemployed women and artists who subsequently dyed thousands of jeans and T-shirts. With contracts from large companies like Burlington Industries and JB Martin Velvets, we dyed very upscale fabrics — silks, velvets, chiffons and even leather — which made their way to top designers around the world.
I also created large inspirational art pieces and was commissioned by the Contemporary Crafts Museum in New York City to be part of a major fabric show. I draped a 300-foot long silk canopy, four stories high, anchord to my tie-dye paneled motor home!
Recently, I decided to revisit the world of tie-dye by creating these collectible silk ties and scarves. Each one is hand tied and dyed. No two are alike.
Perhaps the spirit of tie-dye will live again… through you. Read the full story here >>>
— Vintage photography by Zubin