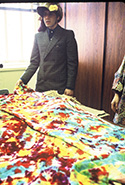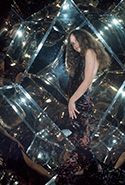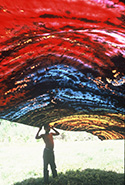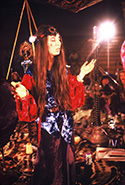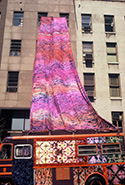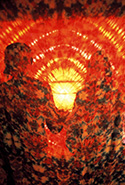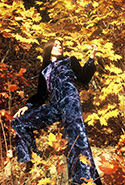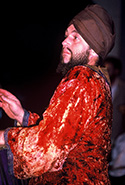 | Zubin, A Living Legend|
The Story Behind the Tie-Dye Trend
(Full Story)
The '60s was a time when young people were opening their minds and hearts to express their creative potential, inspiring a cultural revolution that influenced music, art, fashion, and politics. Real hope for a new world was based on love, service, and celebration.
In the mid '60s, I was a professional dancer, performing in New York at American Ballet Theater and Carnegie Hall, and with the New York City Ballet with Martha Graham, Pearl Lang, and Charles Weidman, one of the originators of modern dance. With an interest also in interactive theater, my creative, flamboyant friend, Ivan Film, joined me to create exuberant, imaginative weekend theater events in a Greenwich Village loft.
At one of our events, the "Tie-Dye Plunge," guests selected silks, velvets, and satins or a clothing article such as a T-shirt, pants, or scarf, and were shown how to fold and tie them. After entering an area of vats filled with liquid dyes, they experimented with colors and designs. Dazzled by the creativity of some of the pieces, Ivan and I continued exploring the ancient art of tie-dye, which seemingly brought color into people's black-and-white lives, opening them up to feeling and seeing life in a positive way.
Ivan and I decided to build two multifunctional pushcarts in the heart of Greenwich Village. There we sold our creations, exhibited my own dance photographs, and sold our best-selling, wild invention: fur balloons. We had found a source of fur scraps and glued pieces as face features onto balloons filled with helium. The fur balloons were so successful that we opened a boutique called The Fur Balloon in the heart of the West Village.
The store was tie-dyed, from the multicolored floor to the silk-chiffon- draped ceilings, with dyed velvet panels lining the interior. We created a unique, 12-sided, mirrored geometric form, which allowed customers to experience their "infinite nature," and all customers left with their own heart- shaped fur balloons. Rock stars and celebrities like Janis Joplin and Jimmy Hendrix arrived with friends in their limousines, and stayed to play music and dress up in assorted tie-dyed outfits.
On weekend visits to Woodstock in 1969, I often visited with Richie Havens and other musicians, and met Michael Lang, producer of the Woodstock Festival. Michael invited us to showcase our tie-dye T-shirts at the soon-to-be-famous festival. As we began tie-dyeing 5,000 donated T-shirts, we soon realized the enormity of the project and took the shirts to a nearby Laundromat to dry them. Unfortunately, the colors faded, so we realized we had to dry them outdoors. But where, in the middle of New York City, could we do that?
We had a partner whose father owned several skyscrapers near Rockefeller Center. So we made many trips to the rooftops of three of the buildings, where we stretched cords and hung up hundreds of tie-dye shirts to dry. Hundreds of residents in high rises that overlooked those rooftops — as they peered out their windows - could not believe their eyes!
The drying process went on for weeks until all 5,000 T-shirts were completed. We then transported them to Woodstock, and built a booth where they were displayed and sold during the festival. As a result of this first major exposure of tie-dyed T-shirts in the U.S., Ivan and I realized that our designs had started a new trend.
We called on the president of Rit Liquid Dye, the only commercial dye company in America. Introducing ourselves as the creators of the new tie-dye fashions, we told him that this trend could dramatically increase sales. Arranging a meeting with the president and top executives, we drove to Rit's corporate offices in Englewood, New Jersey. We constructed a five-by-five-foot box covered with tie-dye velvets on the outside, and stuffed it with tie-dye scarves, pants, and T-shirts - all attached to our Fur Balloons. We ceremoniously opened the box - flooding the air with our creations. The next day, a call from a prominent New York public relations agency resulted in feature stories with color photos of our creations in the New York Times, Chicago Tribune, and Look magazine. As a result of Rit's million-dollar promotional campaign, the tie-dye trend was established throughout the country.
A few months later, we were approached to consider tie-dyeing jeans and T-shirts under the Gay Togs label. Although Ivan declined because he didn't want to run a factory, I agreed to the project since it would be funded anywhere I chose to set it up. We learned about a factory for sale in Saugerties, New York, close to Woodstock, where I wanted to move. After seeing the factory, I purchased it the next week and moved to Woodstock. The long-abandoned building had leaning walls, no utilities, and a leaking roof; and we had just a short time to clean, make repairs, and purchase the necessary equipment needed to dye and dry our fabrics and clothing.
Employing artists from Woodstock, we worked day and night to be in production by the end of the summer. Then I hired about 40 unemployed local women, who folded and tied our clothing and fabrics for many years. We installed a kitchen and hired a cook, who made wonderful vegetarian meals for the employees. Sometimes, musicians would come and play while everyone worked.
I rented a large mansion in Woodstock, which became the heart of communal living for some of the era's most talented artists. Adorning the house in tie-dyed velvets, silks, and chiffons, we held weekend celebrations for local artists and musicians. They came to play, dance, read poetry, feast on natural foods, and do yoga. Musicians and groups such as Van Morrison, The Band, Paul Butterfield, Todd Rungren, Leslie West of Mountain, and Warren Bernhart celebrated with us. When Judy Collins came to the house for a visit, we created a special tie-dye velvet outfit for her.
Through connections of friends and relatives, we met with successful, mainstream companies like Burlington Industries, who gave us a large contract to tie-dye thousands of yards of their fabrics. JB Martin Velvets collaborated with us to create a specially textured white velvet that produced exquisite tie-dye designs. One of the largest leather companies in New York contacted me to create tie-dye designs on their leathers, which were made into high-end purses, book covers, jackets, belts, and boots.
During this time, I was given a small motor home, which I paneled on the outside with tie-dyed silk charmeuse, and on the inside with tie-dyed leather and velvet, and a draped silk chiffon ceiling. I was contacted by the Contemporary Craft Museum in New York City to be one of the featured fabric artists representing the world of tie-dye. They commissioned me to create a huge silk canopy that was 30 feet wide by 300 feet long, and rose up four stories to the top of the museum. Also, I was given a special permit to park the motor home - which became my home and showroom for six weeks — in front of the museum, which was located on the Upper East Side near Fifth Avenue. The police wanted to tow the motor home away, but surprisingly, I had a special permit from the mayor.
At this time also, I developed more intricately tied and folded, dyed art pieces used as inspirational wall hangings in which one could see various ethereal nature spirits, symbols, faces and forms. These meditative art pieces found their way into private collections. I was commissioned to tie-dye a parachute, a sail, and to decorate an heiress' houseboat moored at a pier near New York City.
Around this time, the owner of Woodstock's natural food store commissioned me to tie-dye the his new bookstore - inside and out. Weeks later, the town of Woodstock woke up to, probably, the only tie-dyed store in the world. Well received by the municipal government and residents of the village, the interior walls were tie-dyed in velvet with silk chiffon ceilings. The exterior was finished in silk chemise, which we stapled to the existing wood frame. In the photo taken at the store's opening, I'm wearing my hand dyed leather shirt and velvet pants.
After years of tie-dyeing and running a business, I became exhausted, shut the operation down, and decided to retire until my next creative inspiration. Though I will always be an inventor, artist and entrepreneur, I will never forget the spirit of the '60s, as well as America's history. Recently, I decided to revisit the world of tie-dye by creating collectible ties and scarves. Perhaps the spirit of tie-dye will live again… through you.
— Vintage photography by Zubin